Description
British Columbia is home to the most stunning and diverse landscapes in the world. In your tour itinerary we have outlined the highlights for each day so you will always be prepared for the adventure that lies ahead.
Surface: 100% paved roads
Difficulty: Suitable for all riders and pillions
Riding Distance: Around 1700 miles, 2700 km
Group Size: Depends on the size of your group
Dates: Available all year round, but recommended between March and October
Highlights
Here are just a few of the main highlights you will see on your tour.
Icefields Parkway
Sea to Sky Highway
Yellowhead Highway
Jasper National Park
Ainsworth Hot Springs
What you get
GPS route (.GPX file)
Detailed route notes
Hotel and guesthouse accommodation suggestions
Suggestions for the best food and sights along the route
Tour Itinerary
Day 1 – Pick up the bikes and evening in Vancouver
If arriving early enough, you can collect your bike in the evening and then back to the hotel. Alternatively, bikes can be collected the next morning.
Day 2 – Vancouver to Kamloops – (280 miles, 450 km, 5 hours)
Depart from Vancouver in the morning on the Trans Canada Highway, through the famous Fraser River Canyon from Hope to Cache Creek, with stops at "Hell's Gate Canyon" and Spences Bridge, before following the "Gold Rush Trail" of the late 1800's into Kamloops.
Day 3 – Kamloops to Valemount (close to Mt. Robson) (230 miles, 370 km, 3:45 hours)
Today heading out of Kamloops you will notice the stark contrast in the terrain as you leave the arid region around Kamloops and head into the mountains, riding along the Southern Yellowhead Hwy, following the Thompson River and the Canadian National Railway Line. You will be riding through wild country and gently sweeping highways, with plenty of wildlife and spectacular scenery.
Day 4 – Valemount to Banff via Jasper and The Icefields Parkway (235 miles, 375 km, 4 hours)
Continuing north in the morning you will soon turn on to the main Yellowhead Hwy and once again along the Fraser River.If the skies are clear, you should be greeted by views of the towering Mount Robson as you make your way up To Jasper. From Jasper you will pass through the breathtaking Ice Fields Parkway on your way to Banff, with stop off at the Colombia Icefields, Athabasca Falls and Peyto Lake.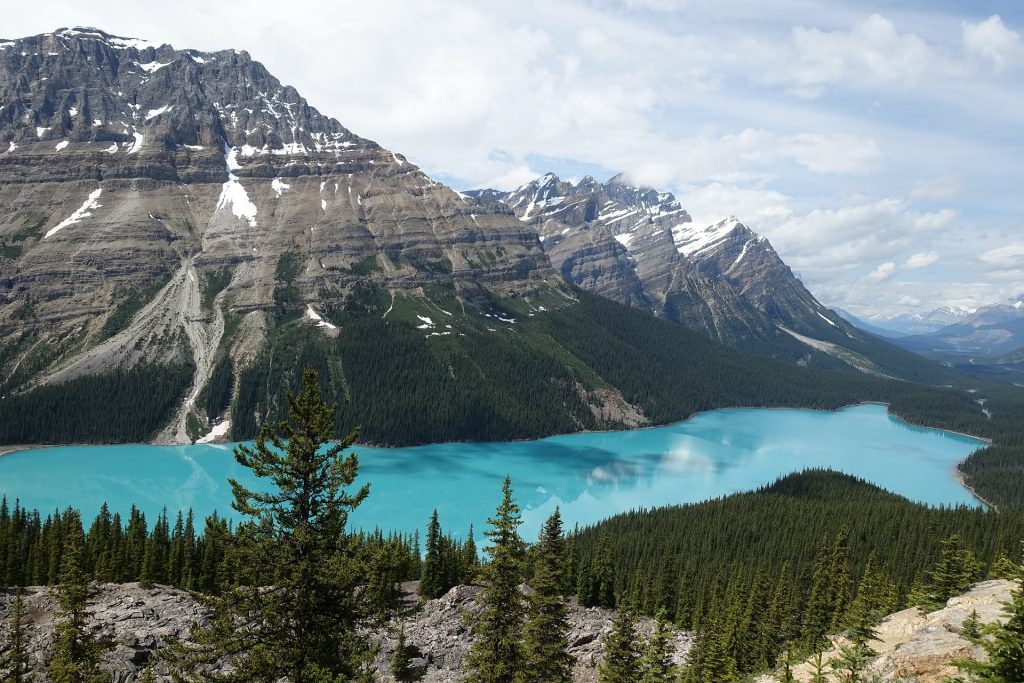 Day 5 – Rest Day in Banff (Optional Rideouts)
The surrounding area in world famous Banff has much to offer during your rest days. You can enjoy walking around the busy tourist town or take shorter day trips to a number of different viewpoints. You have the option to visit a number of towns in the surrounding area, lots of great riding is at your fingertips.
Day 6 – Banff to Revelstoke via Lake Louise (205 miles, 330 km, 4 hours)
Heading back north, you will visit Lake Louise in the morning and get ready to ride the storied Kicking Horse Pass. The road to Revelstoke winds through the narrow valleys that helped link together Trans Canada Railway. You will experience enough switchbacks to make you dizzy. Along the way you will also get a chance to stop off at Takkakwa Falls and ride Roger's Pass, finishing your day in Revelstoke, a picturesque mountain town.
Day 7 – Revelstoke to Ainsworth Hot Springs (135 miles, 220 km, 3:45 hours)
Get ready to experience one of the best roads that BC has to offer. You will be traveling both by road and by lake ferry today, sometimes you need to make that extra effort to find those unforgettable roads. This area is famous for a large number of ski resorts, many breweries, and fertile land for growing fruit. Reward yourself after a long ride in the relaxing Ainsworth Hot Springs.
Day 8 – Ainsworth Hot Springs to Kelowna (230 miles, 375 km, 5 hours)
Riding back out to Naksuk and Arrow Lake, you will follow the lake south to the Needles Ferry, crossing the lake and along the sweeping corners of the the BC-6, through Vernon and on to Kamloops.
Day 9 – Kelowna to Whistler (260 miles, 415 km, 5:15 hours)
Heading out of Kelowna you will be travelling through cowboy country, with rolling hills and the odd cattle ranch, before making your way to the Coast Range Mountains and riding the Duffey Lake Pass, one of the best roads in BC. This high alpine pass has endless perfectly cambered turns for you to test the limits of your bike. Descending into Pemberton you will continue on the 99 to the resort town of Whistler.
Day 10 – Rest Day in Whistler (Optional Rideouts)
Whistler is a hive of activity all year round and offers a relaxing setting for your second rest day. Head up into the mountains on the lifts for some walking, visit some local waterfalls and lakes or just take it easy in the village.
Day 11 – Whistler to Vancouver (100 miles, 160 km, 2 hours)
On your final day, leaving Whistler you will continue on the 99 and ride on the spectacular Sea to Sky, descending into Squamish and then tracing the coast into Vancouver.